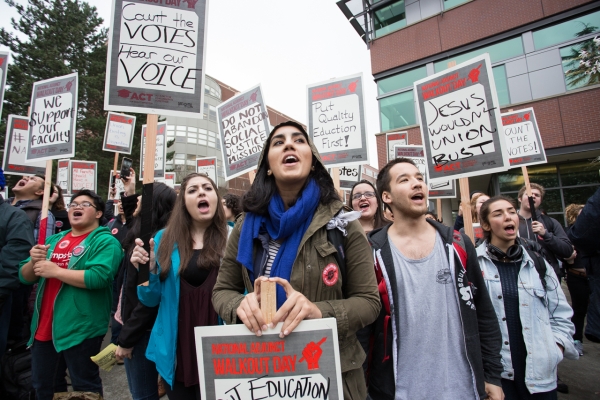 National Adjunct Walkout Day wasn't the Occupy Wall Street of academia. It didn't launch a months-long protest highlighting institutional inequality between tenure track professors and adjuncts. But the grassroots February 25 protest did make its point by raising awareness. Thousands of instructors walked out of their classes to protest poor working conditions. The walkout highlighted the crippling low pay of adjunct instructors, who are the most highly educated and experienced U.S. workers on public assistance.
Over 100 colleges had faculty members participate in protests. One university created a task force to handle labor concerns. Adjuncts said they hoped the event will lead to long-term changes for treatment of adjuncts. Some even hoped it would lead to unionization. Labor historians such as Christopher Chase-Dunn say the movement will succeed if the walkout is the first step toward unionization of faculty.
Unfortunately, there are three reasons why long-term trends in higher education point against unionization of adjunct faculty. Even though adjuncts across America unionized in unprecedented numbers in 2013 and a growing number are represented by the Service Employees International Union (SEIU), economic forces are working against them.
At this point I should be very clear. I am not dismissing the plight of adjuncts. It gives me no pleasure to say any of this. I sympathize 100% with their poor working conditions. I am a PhD candidate and a former adjunct instructor who worked at a small university in California. If my wife had not also been working at the time, I would not have even come close to being able to pay our bills. All the while I watched university administrators earn three times my salary with only one third of my education.
Furthermore, I am happy that more adjuncts are coming together to improve their lot. The fact that adjuncts are working toward unionization means they are taking charge of their career destiny, not waiting for the university to improve their situation for them. I applaud this spirit of initiative-taking.
Rather, I am discussing whether or not adjunct unionization is economically feasible in the long term. Sadly, larger trends point to "no."
First, states are slashing college budgets and raising tuition. Across the U.S., government spending on higher education has dropped. Bloomberg notes that government spending on each college student is below where it was before the beginning of the Great Recession. Forty eight states have reduced spending on colleges after the recession. The two exceptions are Alaska and North Dakota, two destinations few academics would likely want to make a permanent home, despite attempts by well-meaning individuals to argue to the contrary. Seven or more governors want even deeper cuts.
Students have paid an increasing share of postsecondary education for decades. In 1988 they only paid 23.8% of public higher education revenue. In 2013 the number was nearly 48%, according to George Pernstein, president of the State higher Education Executive Officers association. State budgets are giving less money to universities than ever before.
Adjunct faculty will have a hard time fighting for a bigger slice of a money pie if that pie is shrinking.
Second, if adjuncts joined a union, they would be part of a public sector union. And public sector unions are becoming politically poisonous. A poll by the Pew Research Center for the People and the Press found rising public discontent with organized labor. Public support for unions has dropped 17 percent since 2007, hitting its lowest favorability ratings in history. Americans have a 50-50 favorable/unfavorable split opinion of unions. Among those who have an unfavorable view, there is even more dislike with public sector unions, 40 percent to 37 percent, respectively. The reason for this opposition goes all the way back to Franklin Roosevelt. He opposed public employee unions because he believed that people whose salaries came from taxpayers should not be able to collectively bargain against citizens whose taxes were being collected by force.
This discontent translates to falling rates of public employee membership. While national union membership held at 11.3 percent in 2013 but lost 118,000 workers in the public sector. Most of these losses came from Wisconsin, where Governor Scott Walker successfully campaigned on reducing public employee unions by limiting collective bargaining rights. His legislation passed in 2011. Union membership in the public sector fell to 37.6 percent in 2013 from 53.4 percent in 2011.
Even if adjuncts can hop on board the union lifeboat, they may be adding weight to a sinking ship.
Third, there is a glut in the market of PhDs and the supply fundamentally exceeds the demand. There is a surplus of doctorates looking for the shrinking number of positions. The disparity is accelerating. In 2000, 44,8000 people finished their doctorate programs. The number has increased every year, with 70,200 finishing in 2010. The U.S. Department of Education reports that over this period, nearly 600,000 new PhDs were added to the supply of current PhDs, but only 150,000 jobs were added. Simple math dictates that a new PhD is 450,000 jobs less likely to get an academic position than 10 years ago.
Because supply exceeds demand, adjuncts are not in a position of power to bargain with universities for better conditions. Humanities instructor positions at local universities get hundreds of applicants, even at community colleges. Unionization for adjuncts can delay this law of supply and demand from taking effect, but it cannot cancel it. As economist Herbert Stein said, "If something cannot go on forever, it will stop."
Supporters of National Adjunct Walkout Day would respond that February 25 was only the beginning of the movement, not the end. Merely the fact that it took place at all is a sign of victory. The civil rights movement was won through thousands of protests, sit-ins, and rallies. Why can't National Adjunct Walkout Day be the same? Why can't there be a unionization effort among adjuncts that could end the exploitation of adjunct labor?
I wish adjuncts the best. I want intelligent scholars to get the pay they deserve. And nobody deserves to be exploited the way they do, particularly by university administrators who don't mind earning $300,000 a year to fundraise for new football stadium skyboxes. But sadly, the path to fair pay for adjunct instructors does not run through unionization.
Because ultimately, public employee unions are fighting the economic forces of gravity.